HOOPSWORLD TV
HOOPSWORLD catches up with Oklahoma City Thunder forward Kevin Durant on the team trying to grow to full strength.
read more
More HOOPSWORLD TV
chats
Larry Coon the noted author of the CBAFAQ, will answer your Salary Cap and Collective Bargaining Agreement questions. Larry will answers your questions about the Salary Cap, NBA...
nba news
Despite the Cavaliers' slow start, the team remains determined to end their postseason drought ... Kevin Durant impressed with...
read more
More NBA News
NCAA Basketball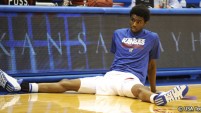 by Eddie Timanus, USA TODAY Sports The top five got a bit of a shake-up this week, but the...
read more
More NCAA Basketball
Fantasy Basketball
Today we will take a look at those players that have seen their stock spike over the first few...
read more
More Fantasy Basketball